IN THE WAKE OF CHETAK...
Sometimes a story begins before it actually does...this story is like that! It's starts with an ending...the wrenching, heart crushing loss of Bailey at 16 years old. She was a very special dog...they all are, but Bailey, well, she really was a beloved creature to so many! That's the ending and we believe, the beginning of Chetak's story. Heaven opened to welcome Bailey and she searched far and wide from this new and lofty, all-seeing perch to send Chetak to us!
In a faraway land, India, Chetak's little life began… it was a painful, horrific and horribly cruel start. India is a country with a crushing population of people and animals! Street dogs are everywhere you look…starving, injured and lonely. However, amongst all of the chaos and pain there are many beautiful people trying to do what they can! A one month old, sweet and innocent little white puppy with eyes the size of saucers, was one such benefactor! An amazing series of beautiful people doing beautiful things lead to the most remarkable thing…one sweet dog's life was saved and he made his way across the globe to start a new life in America! And this was just the beginning of Chetak's amazing life!
Chetak's very early life…birth to one month wasn't likely very pleasant. At just once month old, he and his sister were thrown off a balcony and left to die on the side of a very busy New Delhi street. Sadly, his sister died…perhaps she is the one who spoke to Bailey…I'd like to believe this! Chetak was found by a woman, Anusheh, and taken to a veterinary clinic. He had four shattered legs and a fractured spine. It didn't look good and the recommendation was that he be put down. It just so happened that someone else was there at the vet clinic and she wouldn't have that little dog put down…enter Aarti and Happy Paws! With one look into those amazing eyes, Aarti knew this dog was special and he wasn't finished with life on earth. With his boundless strength and resolve, and the love and care he received, he healed. His back legs remained twisted and deformed, remaining paralyzed. However, his spirit soared and he adapted to his disability.
Outside of that first month, and the healing pain that followed, Chetak was loved and it showed. He scooted around from one Happy Paws worker to the next, one visitor to the next. His joy in living was obvious to anyone who met him. His eyes sought other eyes to share his absolute and resolute feeling of gratitude for being alive. He was and is, an extremely happy and joyous boy! In one such encounter with visitors, someone videoed him. This small video would begin it's journey on the internet highway and end up being seen by his future mommy. And here another chapter in Chetak's life would take off like the fireworks of Diwali!!!!
About this time, forces were at work to bring another dog back into the life and office of Dr. Cree Guardino. Family, friends, and patients were encouraging Cree to bring another fur baby back into all their lives. Despite the still, immeasurable pain of Bailey's loss, Cree was feeling that she needed to rescue another dog. She wanted a dog with "special needs", a dog that would likely not be easily adopted. Around this time, she began searching the internet for a dog that would be able to fit into her work and play lifestyle. She found a three-legged pup named Piyari, through PetFinder.com but soon found that she had been adopted. But through this process she met another amazing animal lover, Barb, who lives in BC, Canada. This was April 12, 2016.
Barb asked Cree to provide a detailed and comprehensive application for adoption. Cree struggled with doing this as the idea of replacing Bailey was still very painful. Ultimately, she relented, filled out the application and within seven minutes of e-mailing the application back, Barb called Cree. Barb expressed some disbelief about what she read in the application, saying "In my many years of doing rescue work, I have never seen an application like yours." This was because Cree expressed a desire to adopt a special needs dog and had no concern for the costs associated with bringing the dog to the United States. In an e-mail to Barb, Cree wrote, "My heart is open for a non-perfect dog! Please keep me high on the list for a tripod or even a wheel-chair dog. I definitely want one that no one else does cause that makes em perfect to me."
About two days later, Barb sent Cree a photo of Chetak…and again, those eyes!!! Chetak resembled Bailey. Tears of loss, excitement and anticipation fell at once. Cree wanted to know more about Chetak. Barb reached out to more amazing animal lovers in India, Mini, Isobel, Meredith, & Sonia. They were instrumental in gathering photos & videos…they woke people to get as much information as they could. There was a lot of excitement and disbelief that someone in the US wanted Chetak! They didn't want to waste the opportunity to get a forever home for this sweet boy so the pictures, videos and stories began to flood in. Barb communicated that the adoption of Chetak is something they never imagined and that they are all over the moon. One short video showing Chetak happily scooting through the dirt at Happy Paws arrived and this became THE video! Cree instantly knew that Chetak was her boy! The decision was made to bring him to California…forever altering Chetak's life, her life and so many others in empowering and loving ways!
It's quite an endeavor to bring a dog to the USA from another country. Many people helped with this daunting process. Chetak had to be cleared medically by the vet, Dr. Choudhary, and have the proper health documents to leave India and ultimately enter the United States. Here is where Pet Fly stepped in. They are a company that arranged Chetak's transportation from end to end. His flight was ultimately booked on KLM, an amazing airline that cares for pets like no other.
Chetak's big day arrived, May 17, 2016…Pet Fly picked him up at Happy Paws…Aarti & staff said their goodbyes and he was off to New Delhi International Airport. Chetak was on his way to being a world traveler and headed to a new life in America.
A great deal of thought was given to the fact he was looking at a 16-hour flight spread over two days. He was afforded the ability to depart the plane in Amsterdam and spend the night at the KLM Animal Hotel before the final leg of his journey. We all need to stretch our legs on long flights, be it two legs or four!
On May 19, 2016 Chetak arrived at SFO! More paperwork needed to clear customs and allow Chetak to be claimed by Cree. The culmination of everything that was happening came to bear during the drive up to the airport and while waiting for the cargo attendant to bring Chetak's crate around. There was anxiety, apprehension, fear, and excitement. After what seemed an eternity, around the corner came a forklift carrying Chetak's crate. There he was, he was real, he was alive and wide-eyed with excitement to meet his mommy. That said, the cargo staff were too slow with the cutters to remove the zip-tie to release him from the crate. In front of us, Cree became superwoman wanting to get to her baby. She simply ripped the crate door off to put her hands on him. Tears of happiness flowed from everyone there. Quite a welcome to the little love. He was home, home at last.
Cree had been doing a lot to prepare for Chetak's arrival…a wheelchair was ordered from handicappedpets.com, ramps were built with Papa's help for both home & office, and Grandma got treats and toys ready. Chetak rode home from the airport in Cree's arms. It was a sight to see. Arriving at his new house in San Jose, right away he explored and felt at home. Soon, he took his new wheels for a spin. He took off as if he were "running"…it was a display of joy and freedom! Completely inspiring despite his inability to go too far. Soon he would continue on the road to greater strength, further recovery and adjustment. He started daily sessions of physical therapy in order to reduce muscle contractions related to this paralysis. He also began a strengthening and stretching program for his two working legs. This included balance work, assisted treadmill walking, and lots of love! Let's not forget the many days he spent doing swim therapy in the pool at Grandma & Papa's.
Like Bailey had done, Chetak became Cree's office assistant. He "worked" beside her as she treated patients each day. Some of his many work duties were; welcoming the arriving patients, providing kisses, receiving constant belly rubs & treats, and playing with the young and not so young patients. He adapted to this new role and environment right away. And Cree's patients did as well…they adapted to having this sweet boy with them, often lying under the treatment table as they got their adjustments. It was a natural fit for everyone. The special love that animals give us is on display each day in her office. The healing that animals provide is unique and shouldn't be dismissed. Cree is the Doctor of Chiropractic in the office, Chetak the Doctor of Unconditional Love.
Chetak's adventures would soon include exploring the great outdoors in Northern California. He hiked, camped, skied, went on many California Coast beach romps, sipped water in wine country, rafted down the Truckee River, swam & "fished" in Lake Tahoe, and took many bike rides around town. He even completed the Squaw Valley Mountain Run in a backpack. Hmm, does that make him a mountain climber or a backpacker?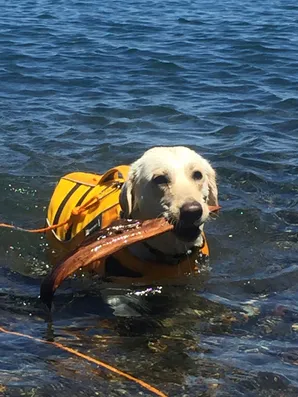 Chetak has become quite the foodie. He loves to eat…this is a understatement for anyone that's seen him devour food from his "slow" feeder bowl. Let's not forget that this boy LOVES fruit…bananas, apples, berries, watermelon. He dines out at restaurants like big dog these days but it some patience to get him to sit quietly under the table.
Chetak's experience should remind us all that the World is small. We live on one planet and love reaches far. Often Cree was asked, "Why rescue a dog from another country, when there are so many here in the US?" Her response was always, "We're one World. It shouldn't matter where you rescue a dog, as long as you rescue one." Through all of this, Cree has met and be-friended countless people across the globe. Doors have been opened for goodness, generosity and love despite fighting the forces that produce pain and evil. Chetak is a constant reminder that love conquers, that persistence wins, and we all have something to give.
Cree discovered that having a special needs dog in a wheelchair was like having 3-year-old twins in terms of the necessary equipment needed day to day. She and her dad came up with an idea to build lighter, more compact, less expensive wheelchairs so she could leave them at the various places she and Chetak frequented regularly…the office, Grandma & Grandpas, friends' homes, etc. It was quite the process in engineering them out of PVC pipe, but ultimately, they have mastered the building of them. From this an idea was a born, "Chetak's Wheels"…a void exists for this type of wheelchair for dogs across the globe. Most evident in very poor places where it is difficult and costly to ship and the rescue groups have limited resources. Cree saw how easy these chairs made her and Chetak's daily life and wanted to give back. It became obvious how difficult it would be to get a large number of these wheelchairs to India. It looked like things would be going full circle, a trip to India was needed!
Cree's family, friends, & patients made generous donations to the trip: Chetak Strong to India. She and her dad went to work building 12 wheelchairs to bring to New Delhi. These along with numerous toys, medical supplies, collars, and leashes were packed in four huge suitcases for the journey to India and the dogs in need. On November 13, 2017, we landed where Chetak departed nearly 1 1/2 years prior. We were met by Ria, a newfound dear friend…brought together by Chetak and the dogs of India. She was a Godsend, carting us and all the wheelchairs from one dog rescue to another through the unimaginable New Delhi traffic. The chairs were assembled and sized at the different rescue groups. Watching each dog be placed in the chair and "walking" for the first time is indescribable. Some were slow to understand and begin moving, others took to it naturally and began to "run". The dogs were so grateful as were the people running the rescue organizations. Despite the countless challenges along the way, watching the dogs enjoy their newfound freedom, made everything worthwhile. Since this all began, Chetak's Wheels are now rolling along in several countries: USA, India, Mexico, Belgium, & France.
I have had the pleasure of being on Chetak's journey since before he arrived in the US. His mere presence creates excitement, curiosity, and emotion. I'm often in what I call, "the wake of Chetak." Following behind he and Cree as they move through a location, I get to see and hear the reaction. There aren't many dogs like Chetak in the United States so a response to seeing a young dog happily rolling along in a wheelchair will get some stares and comments. Adults and children alike are curious about his story and how he got here. It's an important story full of lessons for all of us. Chetak was saved by so many seemingly small things falling into place at just the right moment. He overcame so many obstacles and hardships. His life is precious and full of purpose! He is strong and loving and full of life! Chetak, like all dogs, is here to teach us humans about what is important…love, forgive, play, eat, take naps, get massages, seek adventure, and love some more! We just need to listen to them!
~Written with love by D.A. Upton