Hi, my name is Chetak...I'm a world traveler. I was born in India and had a bit of a rough start. When I was only a small puppy, one month old, my first family didn't want me anymore and they threw me off a two-story balcony.
Luckily, a lovely woman found me wrapped in newspaper and she took me to a doctor. I had a severe spinal fracture and four broken legs but an indomitable sport. The doctor thought it might best to send me over the Rainbow Bridge. But a second angel, Aarti, wouldn't have any of that! She looked into my eyes and knew that I was special. She had seen my strength and knew the perfect name, Chetak! The name is given in traditional literature to the horse ridden by Maharana Pratap at the Battle of Haldighati fought on 21 June, 1576 in Western India. According to tradition, Chetak, although wounded, carried Pratap safely away from the battle. Aarti knew that I had a warrior spirit, hence my name is Chetak! I had several months of excruciating pain but I also had lots of care and love! My spine and back legs didn't heal all the way but I can scoot really fast! Want to race me?
#Rescue #LOVE #Grateful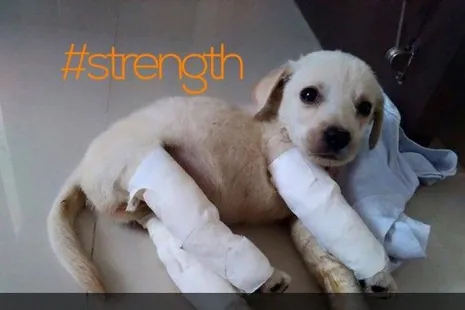 When I was about one year old, my new mommy saw me on a video and instantly fell in love. After I received medical clearance, along with the necessary travel & customs requirements, I was loaded in a roomy crate and headed to California, USA!! I travelled from New Delhi, India to Amsterdam, Denmark and then onto San Francisco, California. I arrived on May 19, 2016 and I have been on the go with my new family ever since!
#JetLag #PottyBreak #CaliforniaDreamin
When I arrived, I saw that I would live in a really nice house with a really big yard. I also got a new set of wheels! It has big knobby tires with a cool camo paint job! Since then, I have gotten a few other wheelchairs several of which my Grandpa and mommy built. When my family visits where I came from in India, they plan to bring some wheelchairs for other dogs there that had a rough start just like me.

#GiveBack #Share #Wheels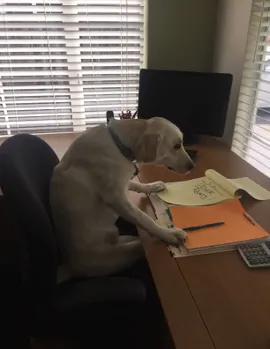 Among my many new adventures is that I got a job! Yes, a real job! I work as an Office Assistant at my mom's Chiropractic office, C2 Living Well. The two C's stand for me and my mommy, Chetak & Cree. The patients love and adore me and one of my main responsibilities is receiving non-stop belly rubs. Someone has to do it, why not me!?!
#WorkHard #FeelGood #DrCree

I love to travel, see and do new things. I've gone snow skiing in Lake Tahoe, swam in the Pacific, run through wine country vineyards, gone camping & kayaking, and I even climbed a mountain. But even though I love all these amazing adventures, it comes down to the simple things…rubs and kisses from the people I love, walks with my furry friends, a big bowl of kibble, and soft place to lay my head.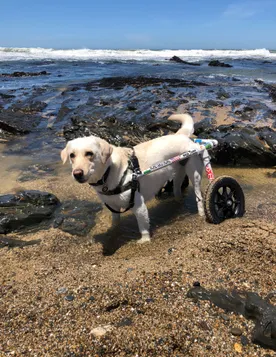 I am incredibly lucky and so happy to be alive! I have a powerful purpose in life! I am here to show everyone who crosses my path that despite how my life started, I have nothing but love, joy and pure gratitude in my heart!! Life is about perspective…happiness is a choice!
#AdaptAndOvercome #DesiDogs #JOY #ChetakStrong